Azerbaijan carpets are traditionally divided into four types, so-called "carpet schools", all of which have distinct characteristics.
These carpet schools are:
Guba-Shirvan with manufacturing centers in Guba, Shirvan region and Baku;
Ganje-Kazakh, with centers in Ganje town and Kazakh region;
Karabakh (with major centers in Shusha, surrounding villages; and
Tabriz with centers in Tabriz and Ardebil in South (Iranian) Azerbaijan.
The carpets from various regional types differ by three features: ornaments, manufacturing technique and the kind of article in question.Karabakh carpets comprise 33 different compositions in total. Some of the were partly borrowed from the Tabriz and Iranian carpet schools, some are completely original.
The Karabakh carpet school have traditionally developed in two areas: in lowland and mountainous parts of Karabakh. The last one often is often called "the Shusha carpet group" , as at highland part of the area Shusha was a leader.
Besides Shusha, the surrounding villages of Dashbulag, Dovshanly, Girov, Terniviz, Malibayli, Chanakcha, Tun, Tuglar, Hadrut, Muradkhanly, Gasimushagi, Gubatly, Gozag, Mirseid, Bagirbeyli, Khanlig, Tutmas were also known for their rugs. Later afterwards the Karabakh carpets with specific characteristics made in these villages were named after either one of them, which developed original design and ornaments. In lowlands carpet manufacturing was based in Jabrayil, Horadiz, Barda and Agdam (most notably, Lambaran village).
Due to the specifics of the local sheep breeds the Karabakh carpets were known for their dense and fluffy pile. They distinguished from other Azerbaijan carpet schools by their artistic and technological ways of production and their size. These carpets are known for their vivid and flamboyant colors, symbolizing the nature of Karabakh. The ornaments widely utilize flower and vegetative motives made in geometrically symmetric manner.
The Karabakh carpets are also usually big in size, and have an oblong shape, because people in Karabakh have traditionally lived in big, oblong rooms and these carpets were placed in floors and walls not only for aesthetic but also to protect from winter froze.
Karabakh was famous for its pileless carpets: shadda, zili, verni, kilim and palas products. High artistic taste is typical also for Karabakh jejims from the Lambaran village (near present-day Agdam). Jejims were a popular decoration material for house interiors and were used in Karabakh for producing pillows and pillowcases, tablecloths, curtains, coverlets.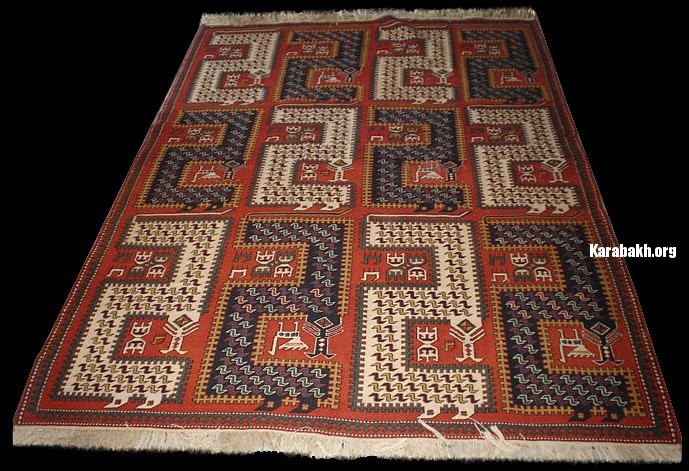 Another distinctive characteristic for the Karabakh carpet school is having three-five big carpet sets, so called "dasts". These sets (dasts) consist of a large central carpet, two side rugs and one head piece, all united in a single composition. In old times these carpet sets used to be the main articles of bride's dowry in both Azeri and Armenian families.
Besides usual carpets, carpet bags and coverlets of different types were widely spread. These included pileless mafrash (a trunk); khurdjun (a doubled travel bag); heiba (travelling bag); chuval (sacks for holding loose products); chul (all kinds of coverlets); yahar ustu (saddle cover) and other objects.
Carpet-weaving was historically a major traditional profession for the majority of feminine population of Karabakh, including many Armenian families. However, among the prominent Karabakh carpet weavers there were men too.
Carpet-weaving in Karabakh especially developed beginning from the second half of the 19th century, when the population of many areas in Karabakh was engaged in carpet-weaving, mainly for commercial sale purposes. At this time Shusha became the center of the Karabakh carpet-weaving.
Karabakh and Shusha carpets have greatly influenced the Nakhchivan and Zangezur schools of carpets. Some experts actually consider these schools to be sub-categories of the Karabakh carpet school.
Shusha's carpet-weavers, Meshedi Bayram Gurban-oglu, Djabbar Haji Akber-oglu, Fatima Aga Sherif-gizi, Ahmed Dashdamir-oglu participated and were awarded prizes in an international show in Paris in 1867. Shusha carpets also received awards in 1872 in Moscow Polytechnic Exhibition.
Some of the famous Karabakh carpets are presently kept in various museums of the world. A Karabakh silk carpet (zili) of 16th-17th centuries made in Barda is currently kept in Berlin in the Museum of Arts. Boston Museum of High Arts holds a Shusha carpet of 18th century. US Museum of Textiles possesses Shusha carpet of 18th centurty, called "Afshan", and the Metropolitan museum in New York has in its collection a Karabakh carpet of "Verni" group.
A unique collection of Shusha and Karabakh carpets is currently kept in the State Museum of Carpet in Baku, Azerbaijan. Most of the collection in this museum was originally kept in Shusha Carpet Museum. In 1992 not long before the town's occupaton by the Armenian military forces, the Shusha museum's director, arranged for 600 carpets to be evacuated from the town in army vehicles. Today the carpets can be found at the Baku museum in an exhibition titled "Burnt Culture."